Great pubs and cafes near Newcastle Quayside
By Paul & Ian, founders of Treasure Hunt Newcastle. Updated March 2022.
In our treasure hunts, we always try to recommend places for our players to relax and take a break. The half-way point of Treasure Hunt Newcastle is near the Quayside so we took it upon ourselves to fully investigate the pubs and cafes in the area.
All in the name of research 🥂
Whether you're after a coffee, a glass of wine or a bite to eat, there are some great places to eat near the Quayside. Read on for our recommendations!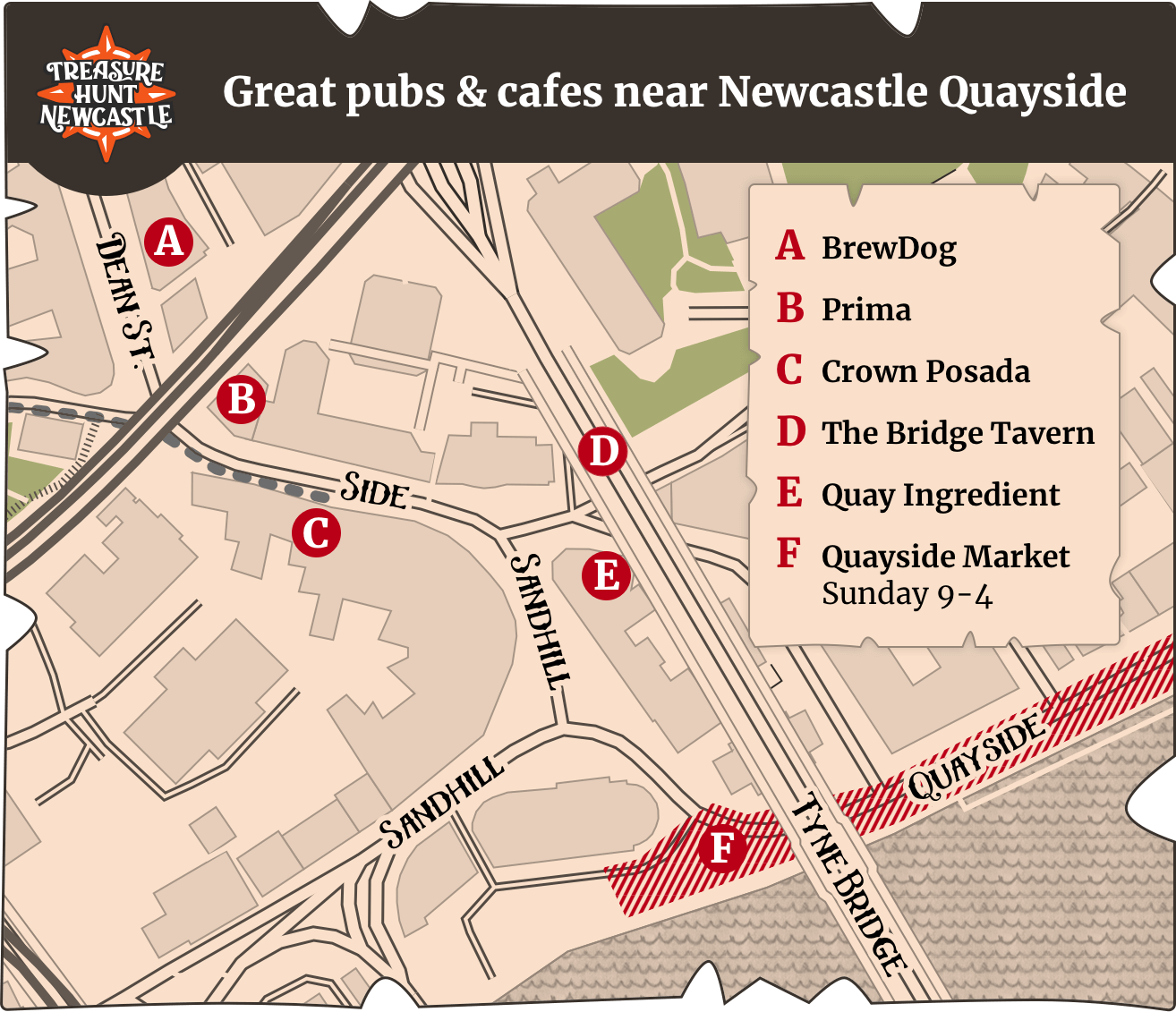 ---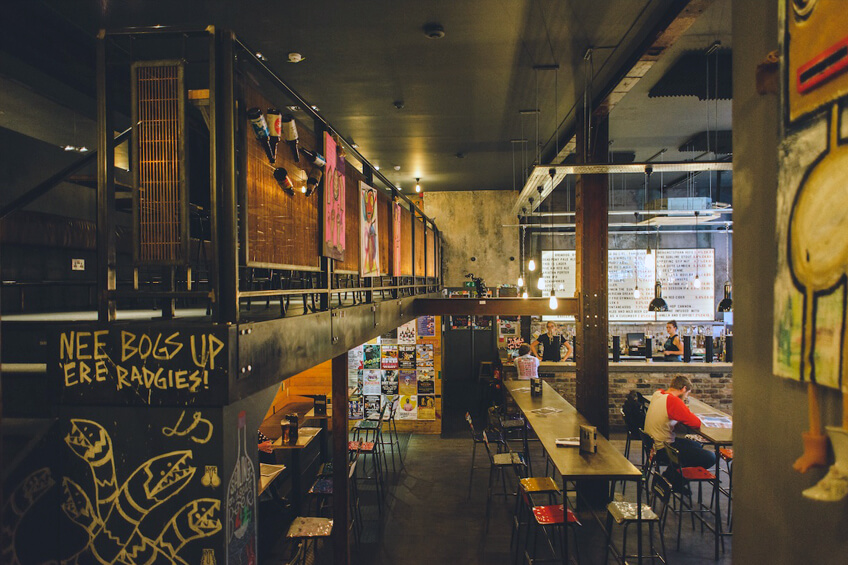 BrewDog
BrewDog - you know the drill. Great beer, funky vibe. The Scottish rebels opened their Newcastle branch in 2012 and it's been a hit ever since.
They've got loads of craft beers on tap, and they've always got some guest beers in too. If you're overwhelmed, ask for a taster and you're sure to find something you like. It's not all beer either, there's wine, soft drinks and non-alcoholic beer (it's really good).
Newcastle's BrewDog has a smallish kitchen, so they don't have as many food options as some other ones. But what they do have is sure to please: handmade pizzas, cheese boards and charcuterie boards. A small but perfectly formed menu.
As with all BrewDogs, their staff are friendly, super knowledgeable about brewing and are always happy to help.
If you're heading that way, it's just a little way up Dean Street. Look up and take in the building - it's stunning, with gorgeous windows and intricate tiles. Easy to miss, like many hidden gems around Newcastle. (When you design treasure hunts for a living you see this stuff!)
Inside you'll get the usual BrewDog style - industrial, distressed wood, punk slogans. You know what I mean!
---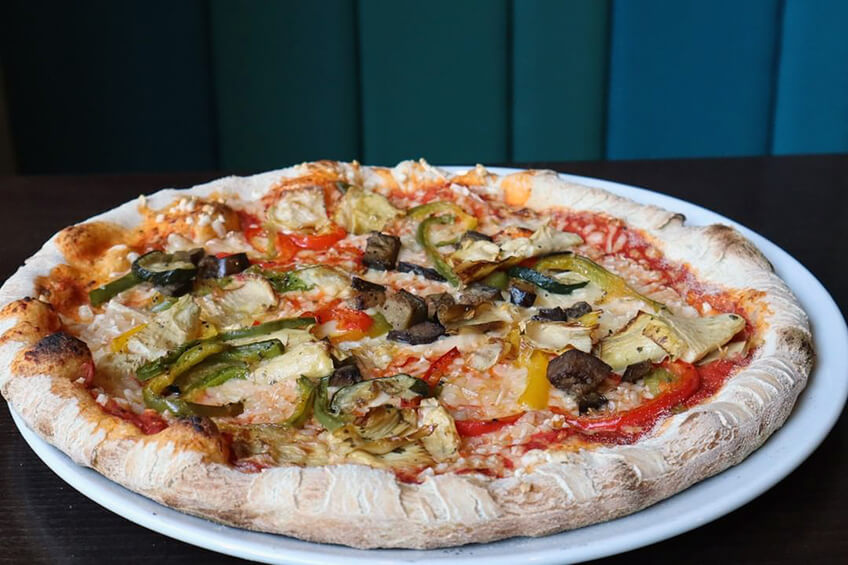 Photo from instagram.com/primanewcastle
Prima
OK, so it's not a pub or a cafe, BUT Prima is just too good to leave off our list. It's a lively Italian and it's the perfect spot if you fancy stopping for something to eat.
We indulged in a cheeky midday pizza at Prima and they were honestly excellent. More interesting than your usual pizza, I had the Spinaci (spinach, pine nuts, goats cheese). Simple concept, perfectly executed. Great base (even gluten-free!) and crisp, fresh ingredients. Yum.
It's not all pizza, either. There's a huge selection of delicious pasta, pizza, grill, fish, meat… everything you could ask from an Italian.
If you're visiting in the week like we were, there's a great-value lunch menu so you can enjoy some guilt-free indulgence.
When we visited, the staff were dead friendly. Our waiter had just started that week, and confided in us that he couldn't stop eating the pizza as it was the best he'd ever had!
You should be able to walk in for a table as it's a large place, set over three floors. But it does get busy so it might be worth reserving if you want to be sure.
---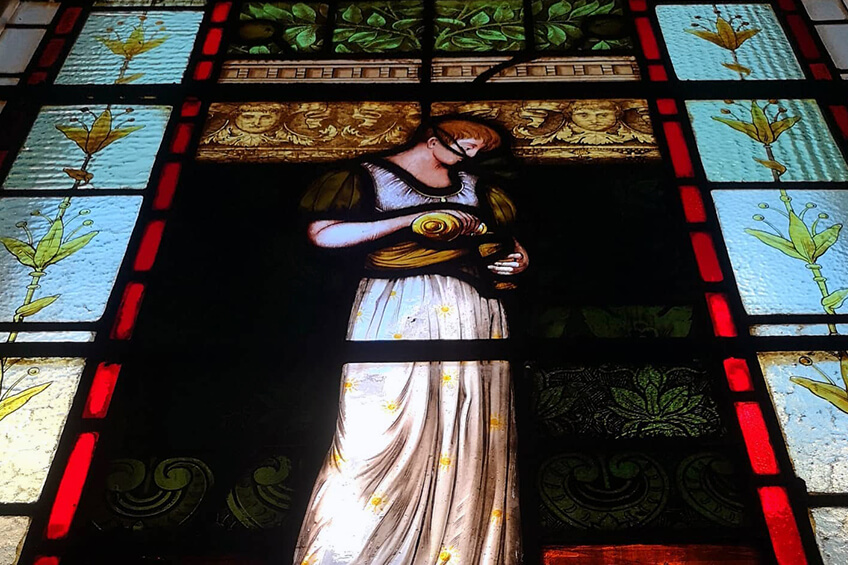 Photo from instagram.com/crownposada
Crown Posada
This pub is one of the oldest in Newcastle and an absolute gem. Built in 1880, it's a very narrow, snug pub. What it lacks in space it more than makes up in atmosphere.
The first thing you'll notice is it's beautiful Victorian exterior with original stained glass windows. As you entered, you're immediately greeted with dark wooden panelling and traditional artwork on the walls.
There's a small snug space opposite the bar, where you can sit with your drinks. Or you could opt for one of the high-backed seats towards the rear of the pub.
The story goes that the pub was bought by a Spanish Sea Captain for his mistress in Newcastle. There could be truth in this… In 2015, during refurbishment work, staff discovered four Spanish murals behind wallpaper in the bar! The Chronicle covered this story in detail with pictures.
They serve up a great variety of excelent ales. Beer aficiandos won't be disappointed.
Well worth a visit if you like traditional pubs!
---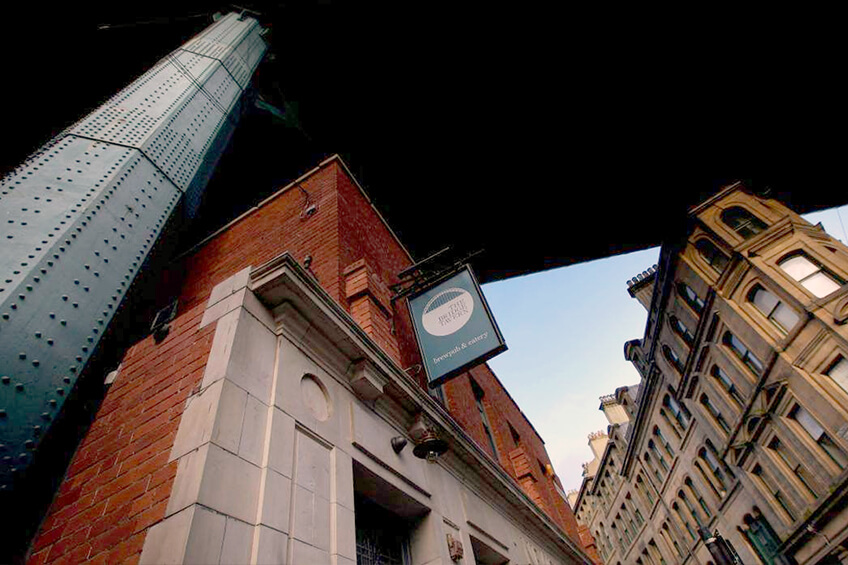 Photo from thebridgetavern.com
The Bridge Tavern
The Bridge Tavern is in a truly impressive location, sitting directly underneath the magnificent Tyne Bridge! It's nestled tightly between two of the bridge's enormous stanchions. Building it must have been a bit of a headache.
Outside it appears to be a run-of-the-mill boozer, but inside is a bit of a surprise. A spacious pub with gorgeous industrial decor. They have gorgeous polished brewing vats, large oak tables and plenty of places to sit, including big bench tables for larger groups.
The Bridge Tavern serves up a great selection of cask and keg beers from local and national breweries. They also have an excellent wine menu and tasty cocktails.
Food is always excellent and in particular Sunday lunch first class. If you're after something lighter, there's a good selection of snacks on offer.
If the weather is good, you must head for the roof terrace. Here you can sip delicious drinks directly under the Tyne Bridge!
A fantastic pub, well worth a visit.
7 Akenside Hill (Google Maps )
---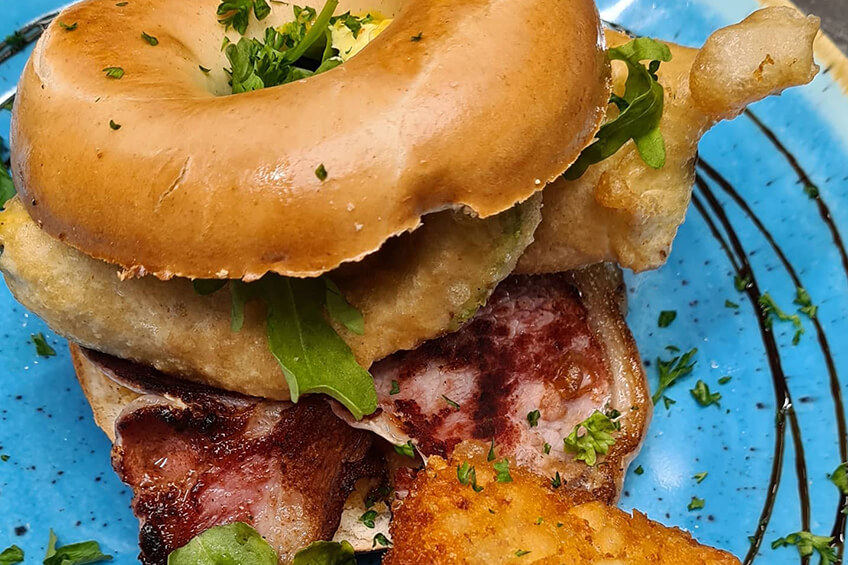 Photo from instagram.com/quayingredient
Quay Ingredient
We've got the admit, we're always tickled by a good pun, so Quay Ingredient got off to a good start. It's easy to miss as it's pretty small and it's tucked away unassumingly under a bridge.
Quay Ingredient is an ideal place for a casual bit of brunch or lunch with friends. The full English is particularly great, as are the eggs benedict. It's a casual, friendly spot with friendly staff and smiley service.
It's a small cafe and the opening times can be a bit funny. The best approach is to turn up and hope for a table, but don't bank on it. That way you'll avoid disappointment.
One more thing - we didn't try it ourselves, but apparently the Nutella Brownie is to die for.
---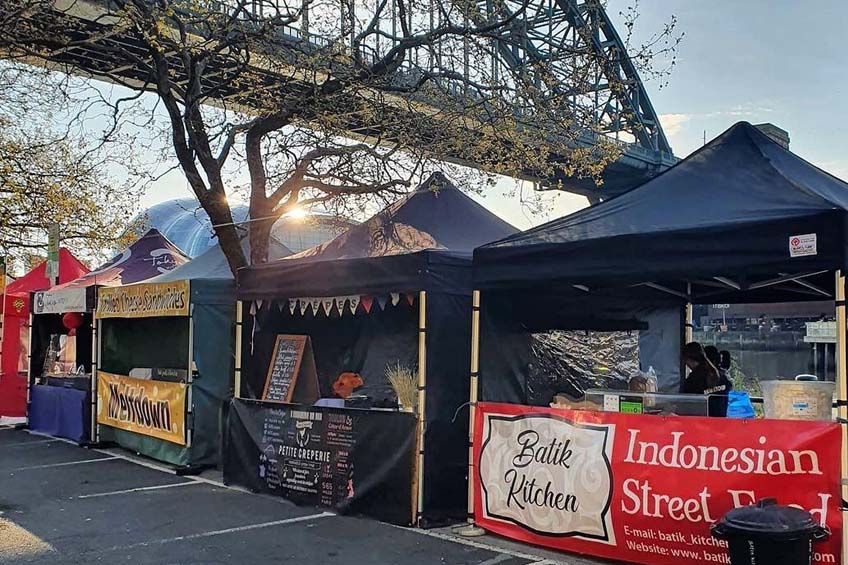 Photo from instagram.com/quaysidemarket
Quayside Sunday Market
If you're lucky enough to be near the Quayside on a Sunday between 9 and 4, you must check out the Quayside Sunday Market.
The first thing you'll notice is the enticing smells wafting across the city from the various food vendors. As you get closer, you can't miss it since it sprawls from the Tyne Bridge, along the Quayside and most of the way to the Millennium Bridge.
Like most markets, there are crafty things for sale, but there's a real emphasis on food, particularly near the Tyne Bridge end. There are food vans for all tastes, whether you fancy Jamaican Patties, Romanian rolls, brisket burgers or Indonesian street food, there's something for you. Or if you're after something sweet, a peanut butter brownie or Brazilian churro is never far away.
Perhaps the best thing about the market is that they close the road to cars. That means there's loads of space to walk in the road, while the food stalls all set up on the pavement by the river. (Yep - it causes chaos for treasure hunt designers like us, but the great food and fun atmosphere make up for it!)
Quayside Sunday Market website
Help us improve this page
Is there anything you'd find helpful on this page? Spotted a mistake? Let us know!
Thank you for letting us know!